The Sun To Shine Highway is the first highway to be built in the
Nation of Aurum
and
2nd World
.  It is a highway that runs southwest to northeast and spans two counties.  It is not know how the highway got it's name.  The Highway name is sometimes shortened to S2S.  It is one of the most used routes in
2nd World
.
Both Grand Junction and Riverbend were well established, but develpers wanted a direct route connecting both settlements.  Both AJM and Nick set forth of building the first route from Grand Junction to Riverbend.  Upon completion, it was the longest route in the Nation of Aurum and 2nd World.  This record would not last long as it was not that long of a route.  The day the final blocks were cemented between the two towns, a major event was held that included a race fromt the city hall in Riverbend to the city hall in Grand Junction.  
Port Frost was being developed to the west, so regional planners decided to expand the Sun to Shine Highway westward towards Port Frost.  The route caused some difficulty as two major bridges had to be constructed crossing the Rapid River.  Also through Wood County, the route would be in constant danger of being covered in snow, so engineers planned to place lights inside the roadway.  It was the first of it's kind in 2nd World and was considered a modern marvel upon completion.  Because of this, the route is never covered in snow.  When Port Frost was connected, the route continued westward to Westport.  The route from Port Frost to Westport was renamed as the Westport Highway in May 2013, and because of this, shortened the length of the Sun to Shine Highway.
Route Decription
Edit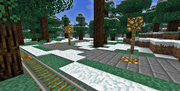 Starting in Riverbend, the highway starts right in the city's main avenue filled with stores.  The highway crosses over the Rapid River and heads southbound across the plains to Grand Junction.  It then turns westward and crosses the Rapid River twice until it enters into Wood County.  In Wood County the route becomes surrounded by snow as it heads deeper into the forest towards Port Frost.  A rail line follows nearby the highway for more of the route through Wood County until it reaches Port Frost.  The highway ends in Port Frost's main commercial district.