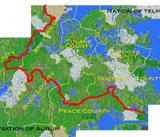 The Rapid River is the longest river in the
Nation of Aurum
 and in 
2nd World
. The river's headwaters is in the massive
Custer Lake
, and it travels southwest across the
Nation of Aurum
and empties into the
Marin Sea
.  It is an important mode of travel and used heavily for trade.  It is not to be confused with town of the same name, 
Rapid River
.
The Rapid River became an important trade route for people early on in the development of towns.  River Bend capilized heavily on the river by building a river port and transportation service up and down the river.  Early cartographers often confused this river as being connected to the Grand River.  Exploration took a long time to find both the source and the emptying place of the river, but were eventually found by early explorers.  The river travels through many settlements but mostly goes through wilderness.
River Course
Edit
The river's headwaters is in the massive Custer Lake, and it travels southwest across the Nation of Aurum and empties into the Marin Sea.  It passes by several communities on it's route towards the sea.
In Bravern County, the river meanders southwest until it splits Wood County from Timber County and River County.  It passes through the Timberline National Forest until it reaches in the northern portions of Grand Junction.  It flows right past downtown Riverbend and around Rapid River.  It then heads southeast past Forsett Valley and northern Fort Dent.  It reaches Rockwell and continues eastbound to the sea.
Settlements
Edit
The Rapid River passes through several communities, all located within the Nation of Aurum.
The river flows by the northern portions of Grand Junction and it helps feed some of the agriculture in the area.  Several bridges go over the river in Grand Junction, but the river is often not thought of much in the town.  River Bend's waterfront is right along the Rapid River and has several docks and bridges that cross over.  The river weaves around the town of Rapid River which enjoys the water recreationally.  The next settlement is the Forsett Valley which uses the water to feed the farms.  As well, the river runs along the far northern tip of some farm fields by Fort Dent.  The biggest settlement along the river is the city of Rockwell which has many docks and ports along the river.