Anders Bay, County Cavan

Vital statistics

Type
Town
Level
2
Location
County Cavan
Inhabitants
Citizens
Andersbukt (also simplified as Anders Bay) was a town located South East of the 
County Cavan
 capital town of 
Cavan
. Most businesses in town were situated along a single main street of downtown.  These included a market, a medical clinic, a Marshall's office, a train depot (which only connected to towns within 
County Cavan
), a fishing store and some other small shops.  The town was built on a cliff overlooking a bay to one side, and an inlet on another. Elegant homes dotted the coastline on the outskirts of town. The town was also home to a well known stave church.
The town was established and built by Amurray.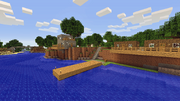 Transportation
Anders Bay was connected by road to Cavan.  That road was an important life line that connects to Council County in Northern Country
Another important route was the road that connected Anders Bay to Newfield County.
County Cavan had an in county rail system, and Anders Bay had a station]].