A Mart

Vital statistics

Type
Business
Level
General Merchandising
Location
Northern Country
Inhabitants
Unknown
A Mart was the largest chain store in
1st World
and had locations all throughout
Northern Country
.  The store sells general merchandise at lowered costs.  They were a direct competitor with upstart company,
Munroe's
.
A Mart was first established by Nick with their inaugural store in
Twin Lake Terrace
.  It sat there becoming ap opular destination to shop for residents.  Shortly after, company founder Nick resigned and the company was taken over by USAPatriot who quickly started branch stores in
Rubicon
and other cities.  Within a short time, A Mart had locations all around
Northern Country
.  As far north as
Congress
, as far west as
Burnett
and as far east as
Twin Lake Terrace
.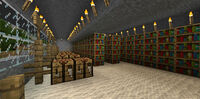 Locations
Edit
Below are all the A Mart locations based on age.  It starts with the first A Mart then the second, third, fourth, etc.  The presence of A Mart was in every major or important town or region.  They were well known for their giant blue letter 'A' above the stores which could be seen from quite a distance and were a popular place for shopping.  Plans were constantly in the works to expand and build more stores throughout the country.  Recent talks were to go international, as they had planned to open one beyond Northern Country borders.